New York News

Woman sexually assaulted by robbers in Brooklyn
Tuesday, March 06, 2012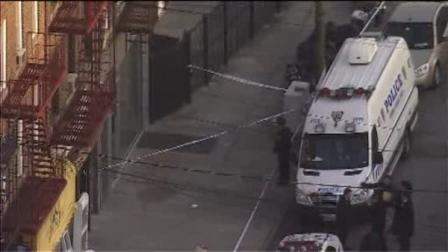 NEW YORK (WABC) -- Two men robbed a leasing office in Brooklyn, but before they took off, they sexually assaulted one of the employees.
Police are now reviewing surveillance video hoping it will lead to the attackers.
"This shouldn't have happened in broad daylight!" said Leba Cohen, a neighbor.
Leba Cohen works next door to the business turned crime scene, a spot covered with cops and closed off with police tape.
Investigators say two men burst into the store in the area of Avenue P and Nostrand Avenue.
They were looking for files, but that wasn't good enough, they sexually assaulted a 55-year-old woman working there.
"We keep the door locked and only open up to customers," Cohen said.
Police say the Marine Park shop has cameras.
They describe the men as dark skinned, in their 20s, one with dread locks, the other wearing a blue hoodie.
Residents and workers plan to be on guard from here on out.
"It's a scary thought you think you're safe at work," a resident said.
---
Get Eyewitness News Delivered
Facebook | Twitter | Newsletters | Text Alerts
(Copyright ©2014 WABC-TV/DT. All Rights Reserved.)
new york city
,
brooklyn
,
marine park
,
robbery
,
sexual assault
,
new york news
,
carolina leid

Copyright ©2014 ABC Inc., WABC-TV/DT New York, NY. All Rights Reserved.