New York News

Cocaine found hidden in plates at airport
Friday, March 23, 2012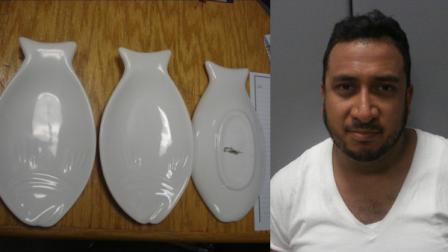 NEW YORK (WABC) -- Paper or Plastic? It seems that plastic plates were the preferred method of concealment for a passenger arriving at John F. Kennedy International Airport.
On March 16, Customs and Border Protection officers inspected passenger Eduardo Delgado, who was arriving from Lima, Peru on a flight originating from Colombia.
During this inspection, CBP officers discovered three plastic plates that felt unusually thick.
The officers probed the plates producing a white powdery substance that tested positive for cocaine.
Delgado was placed under arrest by CBP officers and was turned over to agents from Immigration and Customs Enforcement's (ICE) Homeland Security Investigations.
A total of 2.43 pounds (1.104 kilos) of cocaine was seized with an approximate street value of $54,000.
"The men and women of CBP are professional and diligent in keeping our nation safe from the proliferation of dangerous substances," said Robert E. Perez, Director, Field Operations New York. "This seizure serves as another example to the American public of CBP's dedication and vigilance."
Delgado now faces federal narcotics smuggling charges.
---
Get Eyewitness News Delivered
Facebook | Twitter | Newsletters | Text Alerts
(Copyright ©2014 WABC-TV/DT. All Rights Reserved.)
new york city
,
drug
,
drug arrest
,
jfk international airport
,
new york news

Copyright ©2014 ABC Inc., WABC-TV/DT New York, NY. All Rights Reserved.