New York News

Pop-up pool opens at Brooklyn Bridge Park waterfront
Friday, July 06, 2012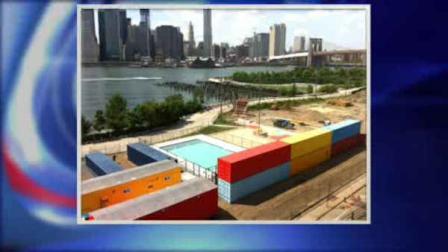 NEW YORK (WABC) -- People in Brooklyn Heights now have a new place to cool off this summer.
The city is opening a pop-up pool at the waterfront of Brooklyn Bridge Park Friday.
The temporary 30-by-50-foot pool, which offers a stunning view of the lower Manhattan skyline, will be open every day through Labor Day.
A maximum of 60 people can fit inside at a time, but there will be four swimming sessions per day to allow everyone to get a turn.
The $700,000 pool, which is purposely shallow at 3.5 feet to accommodate families with children, is located at Pier 2.
---
WAKE UP WITH EYEWITNESS NEWS! Click here to download the WABC Eyewitness News Alarm Clock app from iTunes. or search WABC or 7online in the app store.
Get Eyewitness News Delivered
Facebook | Twitter | Newsletters | Text Alerts
(Copyright ©2014 WABC-TV/DT. All Rights Reserved.)
new york city
,
brooklyn
,
brooklyn heights
,
brooklyn bridge park
,
new york news

Copyright ©2014 ABC Inc., WABC-TV/DT New York, NY. All Rights Reserved.