New York News

Grand Central Terminal, New Jersey park among APA's Top 10 Great Public Spaces
Friday, October 04, 2013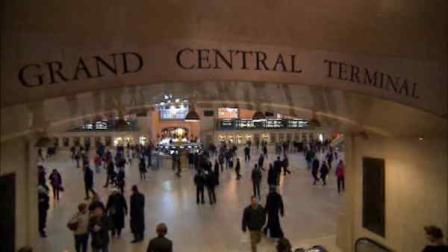 NEW YORK (WABC) -- Hundreds of thousands of commuters see it as a transportation hub, but now one organization is recognizing Grand Central Terminal for its impact on American culture.
The American Planning Association designated Grand Central as a Top 10 Great Public Space for 2013.
The organization singled out Grand Central because of its influence on American planning, architecture, engineering and culture.
Grand Central, which hosts 750,000 daily visitors, is celebrating its centennial this year.
A tragic accident in 1902 reinforced the need for electrified trains and a new station to accommodate them. Ten years and $80 million later, Grand Central Terminal - with its vaulted ceiling, arched windows and world's largest Tiffany-glass clock - opened to much fanfare.
The availability of air rights above the tracks allowed the construction of buildings over a 30-block area. By the 1960s - with railroads in decline and cars and airplanes ascendant - the terminal's owner proposed building a 50-story skyscraper atop Grand Central.
With the city having lost nearby Penn Station in 1963, residents - including celebrities such as Jacqueline Kennedy Onassis - rallied.
After the terminal was declared a city landmark in 1967, New York's Landmarks Preservation Commission rejected the skyscraper. The resulting lawsuit made its way to the U.S. Supreme Court, which, in a landmark ruling, upheld the station's historic status and prevented its alteration or demolition.
A two-year, $200 million rehab was finished in 1998, and completion of an $8.24 billion expansion to accommodate Long Island Rail Road trains is scheduled for 2019.
Essex County Branch Brook Park in Newark also made the list.
It's the nation's first county park built for public use.
The APA recognized the park for its design, planning and use by the community.
Branch Brook Park attracts more than 1 million visitors each year.
The nine other APA 2013 Great Public Spaces are:
Tony Knowles Coastal Trail, Anchorage, AK
Grand Park, Los Angeles, CA
The Broadwalk in Florida's Hollywood, Hollywood, FL
Norman B. Leventhal Park at Post Office Square, Boston, MA
Mount Auburn Cemetery, Cambridge, MA
Forest Park, St. Louis, MO
Essex County Branch Brook Park, Newark, NJ
Walnut Street Pedestrian Bridge, Chattanooga, TN
Esther Short Park, Vancouver, WA.

For more information about these public spaces, as well as APA's top 10 Great Streets and top 10 Neighborhoods for 2013 and previous years, visit Planning.org/GreatPlaces.

(Copyright ©2014 WABC-TV/DT. All Rights Reserved.)



nyc news, new york city news, new york news, new york city, grand central station, new york news


Copyright ©2014 ABC Inc., WABC-TV/DT New York, NY. All Rights Reserved.