New York News

Victims identified in deadly crash on LIE in Queens
Thursday, February 20, 2014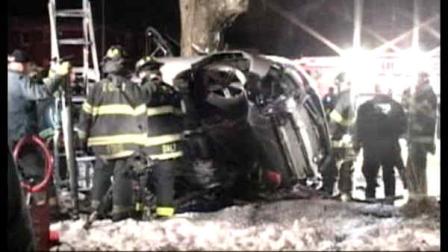 QUEENS (WABC) -- Authorities say the vehicle was traveling at speeds of more than 90 miles per hour when the 19-year-old driver lost control and crashed on the Long Island Expressway, killing himself and a 16-year-old passenger.
Police say the driver was heading west in an Audi sedan when he lost control and hit a tree, killing himself and his passenger.
They were pronounced dead at the scene.
Authorities say Jiahao Liang, 19, of Middletown, New York was the driver. Jennifer Gao of Queens was also killed. The 16-year-old girl went to Benjamin N. Cardozo High School in Bayside.
Investigators say Liang was traveling approximately 93 miles per hours at the time of the crash.
(Copyright ©2014 WABC-TV/DT. All Rights Reserved.)
nyc news
,
new york city news
,
new york news
,
new york city
,
queens news
,
accident
,
long island expressway
,
new york news

Copyright ©2014 ABC Inc., WABC-TV/DT New York, NY. All Rights Reserved.