New York News

School bus gets stuck in Washington Heights sinkhole
Tuesday, February 25, 2014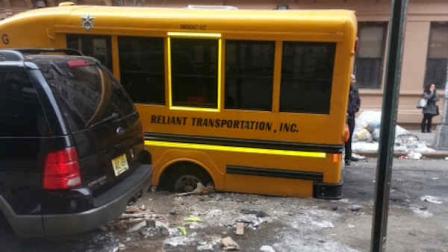 NEW YORK (WABC) -- A mini school bus got caught in a sinkhole on a street in upper Manhattan Tuesday morning.
The rear tire of the Reliant Transportation bus began sinking into West 164th Street, off Broadway, in Washington Heights just after 8 a.m.
Eleven children and four adults were aboard the bus at the time.
No injuries were reported.
The FDNY believes the sinkhole may have been caused by a water condition in the street, and the DEP determined the source of the water leak was from the failure of prior repair clamp on a 12-inch water main.
West 164th Street remains closed for repairs from Broadway to St. Nicholas Avenue.
Eight 6-story residential buildings will be temporarily impacted while repair operations are ongoing.
(Copyright ©2014 WABC-TV/DT. All Rights Reserved.)
nyc news
,
new york city news
,
new york news
,
new york city
,
manhattan news
,
washington heights
,
sinkhole
,
bus accident
,
new york news

Copyright ©2014 ABC Inc., WABC-TV/DT New York, NY. All Rights Reserved.