Northern Suburbs News

Fairfield residents hold vigil for shooting victims
Monday, December 17, 2012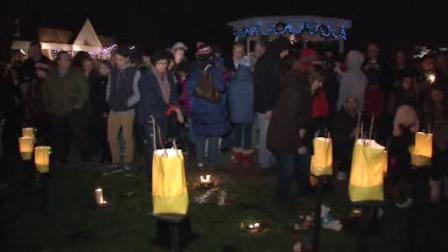 NEWTOWN, Conn. (WABC) -- Residents of nearby Fairfield, Connecticut gathered Monday night to pay tribute to those lost in Newtown.
Dozens gathered at dusk at the Sherman Green Park and Fairground.
They lit candles, played Christmas music and heard from community and spiritual leaders.
Fairfield is only about 25 miles from Newtown, and residents felt a kinship with those in their neighboring town.
Town officials organized the event because they felt it was important to have the opportunity to come together as a whole to grieve.
CLICK HERE TO SEE PHOTOS FROM THE NEWTOWN SCHOOL SHOOTING SCENE
---
Get Eyewitness News Delivered
Facebook | Twitter | Newsletters | Text Alerts
(Copyright ©2014 WABC-TV/DT. All Rights Reserved.)
Get more Northern Suburbs News »
connecticut
,
school lockdown
,
shooting
,
newtown
,
newtown school shooting
,
mass shooting
,
northern suburbs news

Copyright ©2014 ABC Inc., WABC-TV/DT New York, NY. All Rights Reserved.