Northern Suburbs News

2nd East Haven house hit by plane is demolished
Thursday, August 29, 2013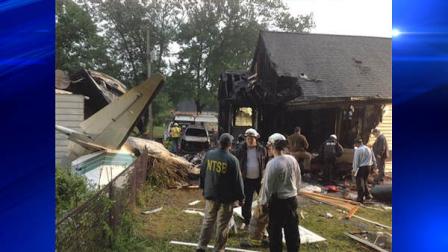 EAST HAVEN, Conneticut -- Workers have torn down the Connecticut home of two children who were killed when a plane carrying a former Microsoft executive and his teenage son crashed into the residence.
The East Haven home was demolished Wednesday morning. A neighboring house also struck by the plane was knocked down last week.
A 10-seat plane approaching Tweed New Haven Airport crashed into the houses Aug. 9. Thirteen-year-old Sade Brantley and her 1-year-old sister, Madisyn Mitchell, died in their home. Their mother survived.
The crash also killed the plane's pilot, Bill Henningsgaard, and his 17-year-old son, Maxwell, of Medina, Wash.
The cause of the accident remains under investigation. The National Transportation Safety Board has issued a preliminary report saying a witness saw the aircraft traveling upside-down as it sped nose-first toward the ground.
(Copyright ©2013 by The Associated Press. All Rights Reserved.)
Get more Northern Suburbs News »
connecticut
,
baby
,
children
,
child killed
,
plane crash
,
teen
,
teenager
,
northern suburbs news

Copyright ©2013 ABC Inc., WABC-TV/DT New York, NY. All Rights Reserved.