Northern Suburbs News

Mount Vernon firefighters battle 2-alarm house fire
Monday, January 27, 2014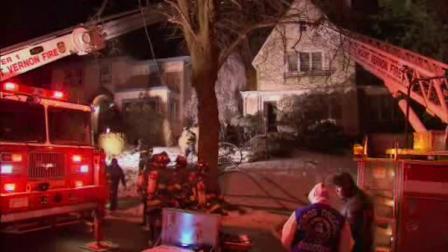 MOUNT VERNON (WABC) -- Firefighters in Mount Vernon battled a two-alarm fire at a home Monday night.
The fire started at around 7 p.m. at 80 Magnolia Avenue.
A 911 caller said the fire was burning in the chimney. When firefighters arrived, the entire top floor was on fire.
Firefighters were forced to fight the blaze from the street, and eventually brought it under control.
All residents and pets were able to get out safetly, and no injuries were reported.
It may have been an electrical fire.
A resident told the fire department a breaker had tripped earlier in the day and fire marshals will investigate to see if that was the cause.
A neighbor, Khamen Bynoe, said he helped rescue the family dog from the fire, walking up to the entrance of the home and taking the dog out.
(Copyright ©2014 WABC-TV/DT. All Rights Reserved.)
Get more Northern Suburbs News »
westchester news
,
westchester county
,
mount vernon
,
fire
,
northern suburbs news

Copyright ©2014 ABC Inc., WABC-TV/DT New York, NY. All Rights Reserved.