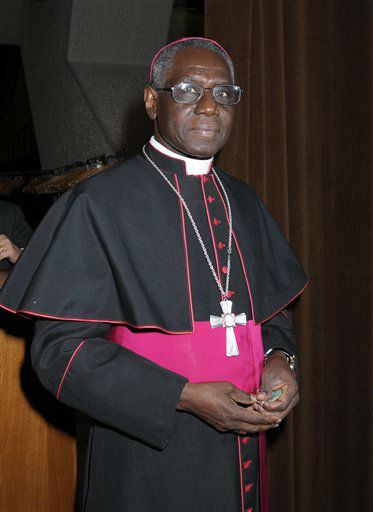 ---
Cardinal Robert Sarah, President of the Pontifical Council "Cor Unum", Archbishop emeritus of Conakry (Guinea), was born on 15 June 1945 in Ourous, Guinea. After middle school, he was obliged to leave home in order to continue his studies at the minor seminary in Bingerville, Ivory Coast. Following Guinea's independence in 1958, he returned home and completed his studies.
He was ordained priest on 20 July 1969 in Conakry.
After his ordination, he earned a licentiate in theology at the Pontifical Gregorian University in Rome and a licentiate in Scripture at the "Studium Biblicum Franciscanum" in Jerusalem.
Upon completion of his studies, he was nominated rector of the minor seminary of Kindia, and served as parish priest in Bokč, Katace, Koundara and Ourous.
On 13 August 1979, he was appointed Archbishop of Conakry at the age of 34, making him the youngest bishop in the world and called "the baby bishop" by John Paul II. He was consecrated on 8 December 1979.
On 1 October 2001, he was appointed secretary of the Congregation for the Evangelization of Peoples.
On 7 October 2010, Pope Benedict XVI appointed him president of the Pontifical Council "Cor Unum".
Created and proclaimed Cardinal by Benedict XVI in the consistory of 20 November 2010, of the Deaconry of San Giovanni Bosco in Via Tuscolana (Saint John Bosco in Via Tuscolana). (AP Photo/ Anonymous)