NEW: No back packs, runners must put things in clear plastic bags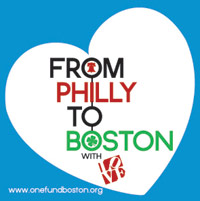 At the Expo, runners will be given stickers to wear over their hearts during the race to honor Boston and to support those impacted by the bombings. The sticker, which will be given out with each bib, will be in the shape of a heart and will say From Philly to Boston with Love.
Donate to The One Fund.