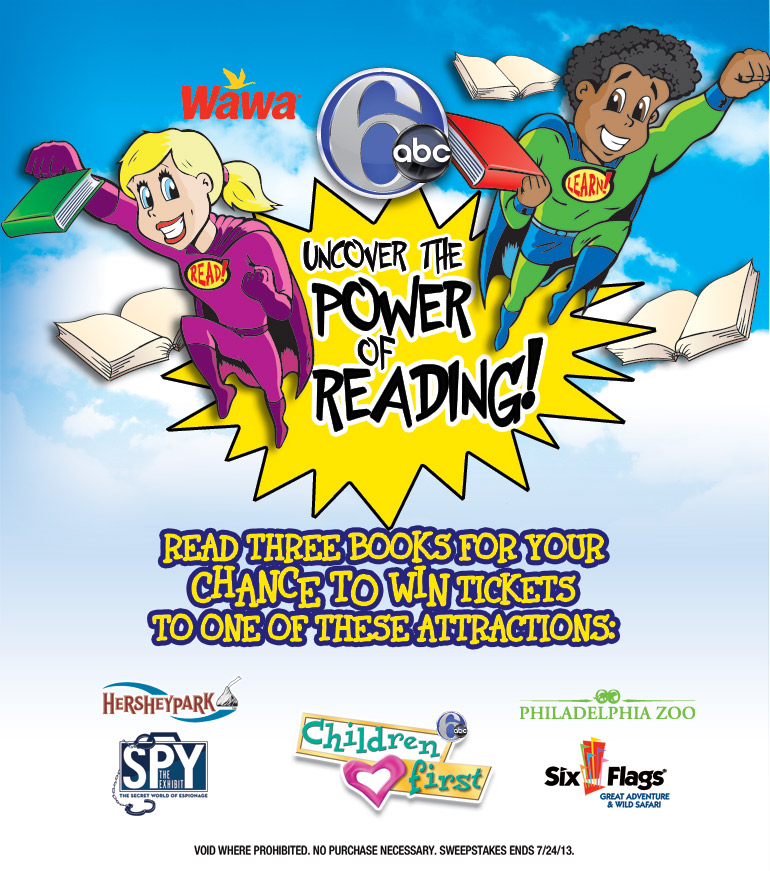 6abc Children First Summer Reading 2013
Wawa and 6abc are challenging kids from around the Delaware Valley to make reading part of their summer fun.  Kids are invited to join forces with their favorite Superheroes on a quest to uncover the POWER of reading!  To be successful, you'll need great determination and focus to stand alongside your heroes through perilous adventures!  Only by obtaining a superhuman knowledge will you be victorious!  In order to accomplish these feats... Here's your mission:  journey to your local library, read three books, complete an entry form and leave it with the librarian. You could be rewarded with two free passes to Hersheypark, The Philadelphia Zoo, the Franklin Institute, Six Flag Great Adventure or Dorney Park.
Don't wait!!!  Your heroes need your help uncovering the POWER of reading!
Tips to Pick your Books
When choosing a book, it is important to consider two details: what YOU like and what YOU can understand:
Do you love sports, music, adventure, fashion?  You can find books on any topic under the sun.  Find one that speaks to you. This will improve your reading comprehension and make the reading more enjoyable!
Don't compare yourself to others; find a book that fits your individual reading level.
Click here to see a list of suggested books from the Free Library of Philadelphia.
Back-Up Support
Behind every superhero is a team of family and friends supporting and standing by to lend a helping hand!  Your mission is to encourage a love of reading.  It is important that parents not compare their children to others, but rather encourage them to learn and grow at their own pace with an understanding and comprehension of the material.
Parents can help inspire young readers. Read to younger kids. Read with older kids. Let your kids see you reading.  Opportunities are all around us - magazines, newspapers, recipes, online content, travel brochures, etc. To ensure your child is able to best comprehend and focus on their reading, turning off distractions can be a useful tactic.  Parents are also encouraged to have open discussions about the books and authors. 
Be a hero to your children and encourage your kids to uncover the POWER of reading!
20-Million Minute Challenge
The Free Library of Philadelphia is beginning a reading challenge for all ages-- the 20-million minute challenge! By the end of the summer, the libraries hope that together you and participants from all over the Philadelphia area can read for a total of 20 million minutes! All you have to do is go to your local library to sign up. The challenge begins June 17th, 2013 and ends August 9th, 2013. Don't miss out on this exciting opportunityevery minute counts!
Click here to find out more about the 20-million minute challenge and the summer reading program at the Free Library of Philadelphia.
Not only is the Free Library of Philadelphia beginning a fun and exciting challenge for people of all ages and all levels of readers - they created a game for children to keep track of all the minutes they rack up this summer.
Click here for the link to the summer reading game.

For more activities children can participate in through the Free Library of Philadelphia, click here.