Crime

SEPTA driver speaks out to find shooter
Sunday, January 08, 2012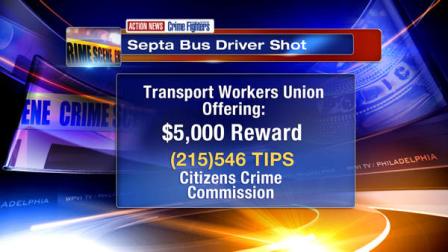 PHILADELPHIA - January 7, 2012 (WPVI) -- A veteran SEPTA bus driver was shot during an apparent robbery attempt several months ago is sharing her story for the first time.
"The grace of God and my streets smarts got me out of that area."
The woman, who asked not to reveal her identity, described the moment she was shot. The bullet tore through her elbow.
"When it hit, my arm went numb from the below the elbow all the way down, that's how I knew I had been shot," she said. "And if I hadn't thrown my arm up, that would have been my head.
It was September 6, 2011 on a rainy Tuesday. She had stopped for a layover at Vare and Snyder Avenues in South Philadelphia when a man ran up to the bus, tried to get on, and fired twice through the door.
Even though she was shot, she still managed to drive herself to the hospital.
She was hoping to retire in 30 years; she had 10 years to go, and she was furthering her education.
"I just graduated in June in criminal justice with an Associates, and I was going back to get my Bachelors. Now my whole life just went to a halt."
SEPTA says attacks against drivers more than doubled last year. The Transport Workers' Union has posted a $5,000 reward for information leading to an arrest and conviction of the shooter.
In June, Action News showed terrifying surveillance video of two men opening fire on a SEPTA bus. Surprisingly, no one was hurt.
This driver is undergoing surgery in January to repair nerves in her hand.
She is hoping that someone has information that could help catch her assailant.
"Get him off the streets, because he is going to hurt someone else."
The number to call is 215-546-TIPS. Call are anonymous.
(Copyright ©2013 WPVI-TV/DT. All Rights Reserved.)
crimefighters
,
shooting
,
SEPTA
,
philadelphia
,
pennsylvania
,
crime
,
rick williams

Copyright ©2013 ABC Inc., WPVI-TV/DT Philadelphia, PA. All Rights Reserved.