Entertainment

Petra Nemcova dismissed from 'Dancing'
Wednesday, April 20, 2011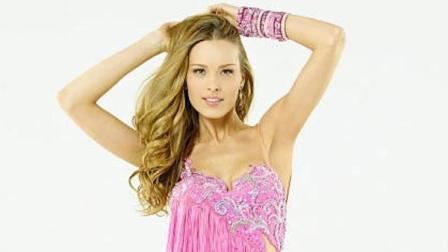 LOS ANGELES (AP) - April 20, 2011 (WPVI) -- She was praised as a "golden goddess" on Monday, but now Petra Nemcova is a "Dancing With the Stars" reject.
The model and humanitarian was dismissed from the hit ABC show on Tuesday, but she vowed to continue dancing.
"It's been a life-changing journey, not just for me, but also so many people got inspired because of the 'Dancing With the Stars' show that I started to do dance-a-thons at schools to fundraise for Happy Hearts and change the lives of so many children around the world," Nemcova said as she learned her "Dancing" fate.
After surviving the 2004 tsunami in Thailand, Nemcova founded the Happy Hearts Fund to improve the lives of children in natural-disaster areas through education.
She and professional partner Dmitry Chaplin danced their way into in a three-way tie for last place. The couple collected 22 points out of 30 for a quickstep routine Monday that earned mixed reviews from the judges, though
Bruno Tonioli
called the model a goddess with "lines that could rival Ferrari, Maserati and Lamborghini put together."
Judges' scores are combined with viewer votes to determine which celebrity is ousted each week.
Nemcova said being on the show "forces you to look at challenges straight in the face and overcome them."
"My life is changed forever," she said. "I will take that with me and I'm incredibly grateful for it."
Tuesday's episode also featured a performance by Toby Keith, who sang his hits "Should've Been a Cowboy" and "American Soldier."
Nemcova joins fellow show outcasts Sugar Ray Leonard, Wendy Williams and radio host Mike Catherwood.
Returning to dance on Monday's episode will be actors Kirstie Alley, Ralph Macchio and Chelsea Kane, athletes Hines Ward and Chris Jericho, singer Romeo and reality star Kendra Wilkinson.
---
Online:
Dancing with the Stars website
(Copyright ©2014 WPVI-TV/DT. All Rights Reserved.)
dancing with the stars
,
petra nemcova
,
kendra wilkinson
,
ralph macchio
,
entertainment
Also See

More:
Bizarre News

That's Entertainment!
Copyright ©2014 ABC Inc., WPVI-TV/DT Philadelphia, PA. All Rights Reserved.