Local/State

Mother: Del. woman in Japan has been located
Friday, March 18, 2011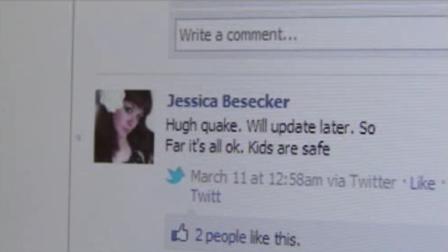 DOVER, Del. - March 18, 2011 (WPVI) -- The mother of a young woman from Delaware, who was in Japan when the earthquake and tsunami struck, says she has confirmed her daughter is alive.
The family of Jessica Besecker was featured on Action News earlier this week after five days had passed with no contact.
However, early Friday morning, her mother contacted Action News to say Jessica was safe.
Jessica Besecker was teaching English in a junior high school in Kesennuma, Japan when the massive earthquake hit.
After the earthquake, Jessica posted a message on Facebook saying "Huge quake. Will update later. So Far it's all ok. Kids are safe."
But that was before the devastating tsunami that followed and, for days, no updates followed.
However, in an email sent to Action News, Jessica's mother, Karen Nagyiski, wrote to say Jessica was at the school and didn't know that her whereabouts were not confirmed.
She said everyone in her school was safe, and about 20 people were still there - mainly teachers that have lost their homes and several still waiting for power and water. 
As for Jessica, she told her mother that her apartment sustained water damage on the ground floor.
RELATED: Search the International Committee of the Red Cross (ICRC) site to see if loved ones in the quake zone have checked in to say they are okay
RELATED: To help, visit www.redcross.org and donate to Japan Earthquake and Pacific Tsunami. You can also text REDCROSS to 90999 to make a $10 donation to the recovery effort
RELATED: Watch videos of the earthquake and tsunami as they happened in Japan
Emergency Information
For emergency information, assistance, and locating family in connection with earthquake in Japan: http://www.facebook.com/l/6b2e3a9CLMNbUwBsOw1jOL8d5aw/www.jhelp.com
Phone numbers in US and Japan:
202 559 4683
800 373 1110
0570 000 911
011 81 90 7170 4769
011 81 90 3080 6711
(Copyright ©2013 WPVI-TV/DT. All Rights Reserved.)
japan
,
earthquake
,
tsunami
,
japan earthquake
,
delaware
,
dover
,
local/state
Copyright ©2013 ABC Inc., WPVI-TV/DT Philadelphia, PA. All Rights Reserved.