Local/State

Motorcycle gang members, with Philly ties, charged
Tuesday, July 12, 2011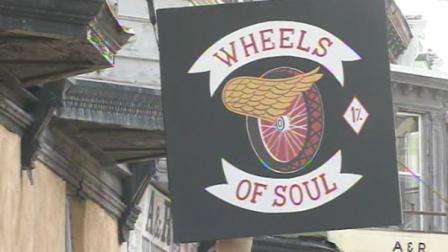 WEST PHILADELPHIA - July 12, 2011 (WPVI) -- A nationwide motorcycle gang was responsible for killings, robberies, drug distribution and other crimes, according to a federal indictment unsealed in St. Louis on Tuesday.
The Wheels of Soul motorcycle club, with a "Mother Chapter" in Philadelphia, orchestrated violence and mayhem that included at least three murders, the indictment stated. The indictment accuses 18 men in seven states of racketeering, with some of the men also accused of crimes that include murder, attempted murder, robbery and kidnapping.
All but three of the men are in custody, said Terry Dougherty, a spokeswoman for the U.S. Attorney's office in St. Louis. The three men being sought are in Denver. The arrested suspects are from Pennsylvania, Illinois, Ohio, Missouri, Wisconsin and Kentucky.
"The significance of today's arrests is not just the fact that these members are considered the most violent of the group," said Dennis Baker, the FBI agent in charge of the St. Louis office. "Today's nationwide takedown has disrupted and dismantled the Wheels of Soul Motorcycle Outlaw Gang by targeting the senior leaders."
The lead defendant, James C. "Animal" Smith, described by prosecutors as the group's national vice president, appeared in court Tuesday after his arrest in Philadelphia, where he was jailed without bond pending a hearing Friday. Defense attorney William J. Brennan suggested he may challenge the detention based on Smith's steady job in equipment maintenance and lack of criminal record.
"He's 64 and he's clean as a whistle," Brennan said. "He's got a job working 55 hours a week. By all accounts, he's a solid citizen."
The indictment describes a well-organized but extraordinarily violent organization, based in Philadelphia but with branches throughout the country. A select few members of the gang achieved "1%er," or "Diamond" status for particularly violent activity, the indictment alleges.
Authorities blamed three killings on the gang. In 2009, members allegedly shot and killed a member of the rival Sin City Titans gang in St. Louis. The shooting came weeks after a meeting in which, the indictment says, members were told that the Mother Chapter had declared "open season" on the Sin City Titans.
In January, a member the Wheels of Soul allegedly shot and killed a person in Chicago during an altercation with the rival Street Soldiers gang. And in March, a member is accused of shooting three victims in the back as they fled from a party in Marion, Ohio, killing one and seriously wounding another.
Other accusations are breathtaking: One member allegedly stabbed another person in the head during a fight at a Chicago motorcycle club, then shot another in the stomach. The indictment said gang members are required to carry weapons, mostly guns but also hammers, knives and others.
In January, six of the accused went to an East St. Louis, Ill., nightclub intending to kill members of the rival Outkast OMG gang, according to the indictment. The plan was foiled because several police officers were seen near the club.
Federal authorities cite meetings in St. Louis in 2009 in which a Wheels of Soul member, Dominic Henley - known within the gang as "Bishop" - told others in the gang that a member in Gary, Ind., had been threatened. He instructed them to retaliate by robbing the rival gang members of their colors by "any means necessary."
Gang members raised money through robberies and by distributing drugs, especially crack cocaine, but also heroin, the indictment alleges.
Wheels of Soul gang members wear black vests adorned with patches on the back and commonly refer to the gang as "the Nation." The indictment accuses gang members from St. Louis of planning to extort smaller gangs by requiring them to purchase a "support patch" that demonstrates subservience to the Wheels of Soul.
---
AP reporter Maryclaire Dale in Philadelphia contributed to this report.
(Copyright ©2013 WPVI-TV/DT. All Rights Reserved.)
philadelphia
,
pennsylvania
,
west philadelphia
,
st. louis
,
gangs
,
local/state

Copyright ©2013 ABC Inc., WPVI-TV/DT Philadelphia, PA. All Rights Reserved.