Local/State

Judge: Try church sex scandal defendants together
Friday, July 29, 2011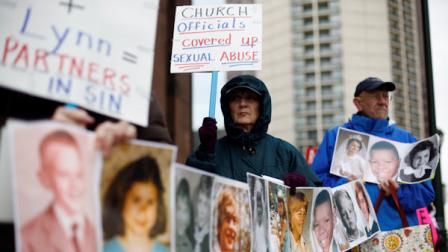 PHILADELPHIA - July 29, 2011 (WPVI) -- A Philadelphia judge has ruled that the five defendants charged in a sex-abuse scandal at the city's Roman Catholic archdiocese will stand trial together.
Common Pleas Judge Lillian Ransom denied most of the pretrial requests made Friday by Monsignor William Lynn, two current priests, a former priest and a former Catholic school teacher.
Lynn is the only U.S. church official ever charged in the sex-abuse scandal for allegedly transferring predator priests to unsuspecting parishes. The other four are charged with raping boys in their care.
The charges came as part of a scathing grand jury report released in February that accused the church of protecting priests who sexually abused children.
Ransom is dismissing some conspiracy charges connecting the defendants but allowed the most severe charges to move forward.
(Copyright ©2014 WPVI-TV/DT. All Rights Reserved.)
sex assault
,
sex offenders
,
child abuse
,
child sex assault
,
church abuse
,
pennsylvania
,
philadelphia
,
local/state

Copyright ©2014 ABC Inc., WPVI-TV/DT Philadelphia, PA. All Rights Reserved.