Local/State

I-76 W reopens after tractor-trailer crash
Monday, November 14, 2011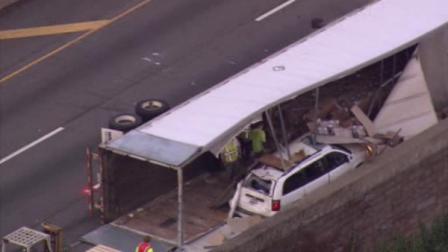 PHILADELPHIA, Pa. - November 14, 2011 (WPVI) -- Two people were injured in a crash that shut down the westbound lanes of the Schuylkill Expressway early Monday morning.
A tractor-trailer, said to be hauling boxes of cocoa butter, overturned at the Girard Avenue Exit just before 4:00 a.m.
A minivan was also involved in the wreck. Debris from the truck fell off the expressway onto Martin Luther King Drive, causing traffic delays on the Drive as well. The far left lane of the westbound Schuylkill Expressway reopened just before 5:30 a.m., and the remaining two lanes reopened several hours later. There is no word on what led to the crash. Police are investigating.
Find out about Breaking News as it happens. Sign up for 6abc.com Breaking News Alerts.
(Copyright ©2014 WPVI-TV/DT. All Rights Reserved.)
accident
,
philadelphia
,
fairmount park
,
schuylkill expressway
,
local/state
1.

Copyright ©2014 ABC Inc., WPVI-TV/DT Philadelphia, PA. All Rights Reserved.