Local/State

Report: Corbett approved Second Mile grant
Wednesday, November 16, 2011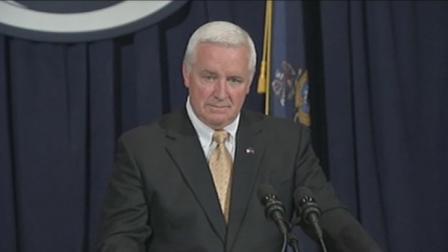 PITTSBURGH - November 16, 2011 (WPVI) -- The charity established by the former Penn State coach at the heart of a child sex abuse scandal received approval for a $3 million state grant but the release of those funds is now on hold.
The Pittsburgh Post-Gazette reports Wednesday the grant for The Second Mile was approved by Gov. Tom Corbett's office earlier this year. Corbett was the attorney general whose office began the investigation into the alleged sexual contact between charity founder Jerry Sandusky and young boys.
The Post-Gazette report says the legislature budgeted for the grant last year and the funds were approved for release by Gov. Ed Rendell. Corbett's office reviewed the grant agreement after he took office in January and approved the money.
Corbett's office says the grant is now on hold.
---
Information from: Pittsburgh Post-Gazette, http://www.post-gazette.com
(Copyright ©2014 WPVI-TV/DT. All Rights Reserved.)
gov. tom corbett
,
jerry sandusky
,
penn state
,
child sex assault
,
local/state

Copyright ©2014 ABC Inc., WPVI-TV/DT Philadelphia, PA. All Rights Reserved.