Local/State

Say farewell to Cathy Gandolfo
Friday, December 30, 2011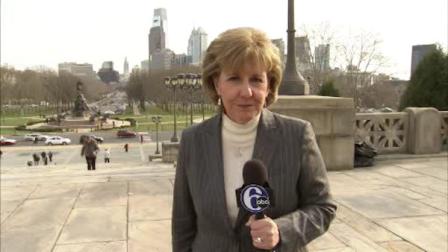 PHILADELPHIA - December 30, 2011 (WPVI) -- Friday is Action News reporter Cathy Gandolfo's last day at Action News.
Our viewers have been sharing their memories of Cathy, both on the air and in person, through our Facebook pages, Twitter, and in the comment section below this article.
Keep reading for a sampling of the hundreds of comments and well-wishes that have been pouring in all day long!
If you would like to share a story, memory or greeting for Cathy, we invite you to post your submission at the bottom of this article.
FROM 6abc.com AND 6at4.com:
Wishing you a healthy & blessed retirement Cathy! You will be missed at the Boyle house. - Tess & Barry Boyle Media, Pa.
It was many "moons" ago when I met you in person at the Jos. A Bank Store in Haverford, PA when I worked there as a cashier, but I will never forget the happy greeting you gave me. God Bless and you will be missed! - selltrue
Always loved the way you said your last name!! LOL. Many prayers for a happy and healthy retirement!!! Thank you for your kindness while reporting our church fire in 2010 too. - jbdmyers
You report the news in such a down to earth and caring way. You will be missed but enjoy your retirement. You've earned it well. - cannie36
Cathy, thanks for your years of authentic reporting, and integrity as a journalist and reporter - you're the last of your kind and you will be missed immensely! Enjoy the next chapter in your life - I have every confidence that whatever it is you do, you'll fine success and fulfillment! - geigergeiger222
Cathy, best wishes for you in your future endeavors. You have always made be proud to be a Goretti girl! Good Luck! - Debbie Notto Carchidi
Cathy, I saw you at church one time not long ago and I thought to myself....WOW its Cathy Gandolfo as an ordinary person. We forget that you're a person first and not some TV star. God Bless you and enjoy your retirement, because you deserve it for all of your hard work. - Dolores DiOrio
Cathy, congratulations on an amazing career at WPVI, from a fellow "Owl" and Philadelphia native. Best of luck to you. - John Di Sciullo, Director of News Operations WKBW Channel 7 in Buffalo, NY
Congratulations on your retirement Cathy. Being an SMG Grad myself, please know how proud we were each time your face appeared on the news. Wishing you a retirement that's filled with lot's of fun and relaxation. We will miss you. - irishmum1
I remember seeing you many years ago on Fort Dix. You are a classy lady and I hope you have a great retirement. - bonnie.a.armstrong.civ
Congatulations on your retirement, you will be missed! I remember meeting you in 1988 while you were covering a story in Deptford, NJ. I worked at the local Wawa as a cashier. Enjoy, we will miss you on Action News! - Mimilew43
Cathy, You have been and will always be a Philadelphia TV news icon. Thank you for many years of dedication to your career. You have enriched the lives of so many through your work. But now it is 'Cathy Time'! Best wishes to you and yours. Sincerely, Ezekiel Meeker.
Wow, Cathy, your day is finally here. Wishing you well with this next chapter in your life. We met some years ago. You and Action News covered the shooting of a 5-year-old boy on my block. You looked good then and look good now. Have fun and sleep a little later. - Mona Lisa
Thank you for so many memories! I met you briefly in 1979 when you did a piece at WJ Hospital Voorhees on the maternity clinic. My son will be 33 in May! Please enjoy a happy, healthy retirement! Best wishes! - Kathy C, Deptford, NJ
Best of luck Cathy. Enjoy your retirement. You'll love it and you deserve it. - Jean B. Harleysville, PA
Dear Cathy: I met you and Chris Wagner back in 1976 as you two were covering the Upper Darby Teachers strike. You have continued to report the news as good as anyone on the TV. I wish you the best and thank you for all the years that you have graced the channel 6 screen. Thanks, Jim Digan
Cathy, best of luck. You are a Philly icon. You spoke at my high school graduation (SMG '78). It will be hard adjusting to your absence. - montecristo1845
Congrats Cathy and enjoy. I moved to the Philly area in 1984 when I married my wife and we have always watched Action News. You were like a watching a friend each evening. You'll be missed. - michael.cory
Best of Luck Cathy. From one Goretti graduate to another, you will really be missed. As the other said, Who will cover the Vatican? God bless you in all you do. - socialite2
FROM OUR FACEBOOK PAGES:
Wow, whenever something big would happen, I would say Cathy Gandolfo channel 6 action news reporting live.......I will miss u Cathy, best of luck! I live In OC so I saw u alot on the boards etc. - Tracy Allen
I have enjoyed the many stories that Cathy Gandolfo has reported on throughout the years. Growing up my grandmother had a farm in southern New Jersey and always looked forward to knowing what was going on through her reporting. Ms. Gandolfo will be missed for her great stories. Best of luck and Have fun with your future endeavors! - Helen Mea
I have grown up with Action News, I met Ms. Gandolfo one day at Duffield's Farm Market in Washington Twp. I was only about 8 years old but I was so excited to meet her. She took the time to talk to me and even sign an autograph. I still have it! Ms Gandolfo, I wish you all the best and all that life has to offer you during your retirement. Best Wishes! - Joyce Peter Knobloch
Cathy Gandolfo..Good luck and Best Wishes on your retirement! You are a great reporter and journalist! From one St. Maria Goretti graduate to another, I salute you! Happy Retirement!!!! God Bless! Thank you for all you have done for the Delaware Valley! - Dana Della Valla
I have been watching Channel 6 Action News and Cathy Gandolfo my entire life. Congratulations on your retirement and a superb career!!! You will be missed!!! - Jeremiah Paton
I've watched Action News since I can remember and Cathy has always been a part of it. Cathy Congratulations and Best Wishes on your future endeavors! My fondest memory was meeting Cathy Gandolfo while shopping at S&C. Very very kind woman! - Kathleen Lowden Ryder
Cathy, congratulations !!! My wife and I will always remember your bitter cold newscasts with you all bundled up. Enjoy your retirement there is nothing like it, but stay healthy and exercise very important. - Glenn Miller
Awww.... I literally grew up watching Cathy. This is very bittersweet news, but enjoy retirement. Although, I'm sure she'll miss standing out in the middle of thunderstorms, floods, blizzards, and hurricanes. ;-) - William Thomas
Enjoy your retirement, I remember serving you and your cameraman lunch a few times when you passed thru town covering a story! You were always very friendly!! - Patty Schiller
Congratulations and best wishes on your retirement! You will be missed - always loved watching your Jersey Shore reports. - Katie Dunn
Your energy amazed me! Enjoy your retirement!! You always covered the Catholic happenings which helped those of us who aren't have a better understanding of what's going on. Thanks!! - Sandy Keller
Enjoy your retirement. It was a pleasure to have watched you report for all these years. - Myrtle Thorn
Wishing you the best Cathy, on your retirement, I have watched you since you started your career at Action News, enjoy your retirement Cathy, you deserve it! You will be missed! - Ron Addezio
Enjoy your retirement! In 2nd grade I remember playing Cathy in our Action News skit. That was in 1982! You will be missed! - Nicole Mennel DiPrinzio
Glad for you that you are retiring but sorry for the viewers. You were always accurate in your reporting and rarely had to look at your notes. I'll miss you...and who will cover the Vatican? - Betty Berry
Cathy congratulations on your well deserved retirement! Im in Margate so ill look for you at Roberts, Tomato's, Johnny's, sofias, Steve and Cookies! - Patricia Walter-Costello
Cathy, we grew up in the same neighborhood and in fact our dads were friends. Always made me proud to see someone from the neighborhood make it. God bless and enjoy your retirement. - Michael Curcio
I was working the Hall of Justice in Camden as a Security Guard she was the nicest reporter I ever dealt with working there. One day I was taking her up in the elevator and she was very pleasant and I asked her, "Is there any news today no one knows that I can tell my Mom?" She smiled and said, "I just found out before I walked in Lucille Ball just died." After that every time she came into The Hall of Justice she always said hello to me and waved. - Stone RO
Cathy, I can't believe you are retiring from Action News. I was shocked to see the news on Facebook this morning. I am only 15 years old and of course I didn't know you from back in the day but I'm sure you were just as good then as you are now. I as well as everybody else will miss you and it will feel like a piece of the 6abc family is missing. Have a happy and healthy retired and please come back to visit. - Peter Planamente
Cathy, I wish you the very best in all do, I really have enjoyed watching you & always looked forward to seeing you. I am also a graduate of St. Maria Goretti & you spoke at my graduation on June 10th 1978 & I remember it always, it was great. Best to you always, you will be missed. - Kim Rossi
Good Luck Cathy! Well mannered, thoughtful and full of grace. I enjoyed you for many years and will always remember the time you interviewed me in Trenton, NJ at a rally for Welfare Supporters. Best Wishes for many more sun rises and sunsets. - Rochelle Burns
Aweeee Cathy how sweet it is....Retirement! I remember meeting you and Marc Howard at the Cherry Hill Mall one time! I think we ate lunch together or somethin! I told my mom I met a big TV star. I remember you being really friendly! Gosh I can't believe I won't be seeing you anymore. :( I even played you one blizzard! Love you and Happy Happy Retirement! - Denise Smolar
FROM TWITTER (#GoodbyeCathy):
To a real pro who never failed to get it done under any and all circumstances. Thank you Cathy Gandolfo. @6abc will miss you. - @Jim_Gardner
@cathy_gandolfo is a great reporter. She was able to make NJ interesting to this lifelong PA resident. Best wishes! - @RipperSoftball
Cheers to @6abc's #CathyGandolfo on her retirement today. I grew up watching her! She is the best! - @daisy2225
Cathy, always enjoyed covering the Jersey Shore next to you when I worked at TV40. Enjoy retirement! - @CleveBryanNews
All the best to Cathy Gandolfo...a class act and lovely lady. Enjoy the shore breeze and sunny days on the links! - @TamEdwards6abc
Totally professional every single time. Snow, politics, or consumer. Live, taped or in person. All my best Cathy Gandolfo! - @EStevenCollins
As a NJ resident for the past 21 yrs, it's sad to see Cathy go! However I wish her the very best in retirement! - @alyssahars
Watched Cathy's reports for years, it's comfortable with her on the air, like family. Have a happy, healthy retirement. - @Marissia
Cathy did a great job reporting the news - @MsPattyJackson
Bravo to @6abc's #CathyGandolfo, celebrating her last day at the staton today. One of few people who's been doing this longer than me.- @PhilHeron
36 years...amazing! - @chris_ellis
Congrats @6abc @cathy_gandalfo on your retirement. #Philly will miss you. - @RedCrossPhilly
Gonna miss, her may God bless her. - @myownbestie
1 of Philly's best, she'll be missed, Good Luck Cathy! - @zackwheeler
Congrats Cathy-you're among the very best this city has ever had. Enjoy your first snowstorm on the couch -I did! #happytrails - @alcaples
Best of luck in your retirement. It's been great watching you on TV all these years. - @blueskyLinda
(Copyright ©2014 WPVI-TV/DT. All Rights Reserved.)
pennsylvania
,
philadelphia
,
cathy gandolfo
,
new jersey
,
delaware
,
local/state
Copyright ©2014 ABC Inc., WPVI-TV/DT Philadelphia, PA. All Rights Reserved.