Local/State

Kids raise money for cancer patients and research
Monday, February 27, 2012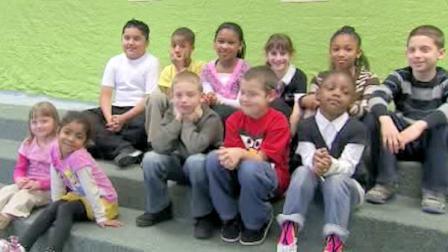 NORRISTOWN, Pa. - February 27, 2012 (WPVI) -- "I wanted to really help the people who have cancer," 8-year-old Bryanna Skipwith told Action News.
So when Bryanna heard Whitehall Elementary School was raising money for the Leukemia and Lymphoma Society (LLS), she cleared out her savings.
"When I was raising money I asked my mom for all the money in my piggy bank," she said.
Bryanna is just one of 500 students at the Norristown school proud to present a check for more than $2500 to LLS for their Pennies for Patients program.
When students learned leukemia affects more children under the age of 20 than any other age group, raising the money was a no-brainer.
"Because that's how you help sick kids," said 5-year-old Elizabeth Emory.
The cause was especially close to this school. Third grade teacher Gina Walsh lost her brother, Tony Ciaccio, Jr., to leukemia three years ago. He was only 30.
Walsh shared her brother's story before the school began the three-week fundraiser.
"I actually got up and spoke about my brother," said Walsh. "The next day the children came in with bags and bags and bags with change and dollar bills and checks from their families."
Students were able to scrounge together $2054.81 for cancer patients and research. The Tony Ciaccio, Jr. Fund added $500 for LLS plus another $1000 for the Ronald McDonald House.
The Ciaccio family and the two organizations were overwhelmed by students' generosity.
"That was amazing, how they cared. That was amazing," said Caroline Page of LLS. "I'm so proud of this school. They really opened up their hearts and made a lot of people feel really good."
"It's not easy to raise that kind of money, but the children at Whitehall Elementary worked hard, knowing how important this cause is.
"Teaching empathy is really hard," said school principal Maryanne Hoskins. "That's a really hard thing. It's one thing to want to raise money, another to put yourself in someone else's shoes. That's what we hope is going to come out of this."
If that's the lesson, it's clear these students aced it.
(Copyright ©2014 WPVI-TV/DT. All Rights Reserved.)
pennsylvania
,
cancer
,
children
,
montgomery county
,
norristown
,
local/state
,
katherine scott
1.

Copyright ©2014 ABC Inc., WPVI-TV/DT Philadelphia, PA. All Rights Reserved.