National/World

Twitter, Facebook track updates about Japan
Tuesday, March 15, 2011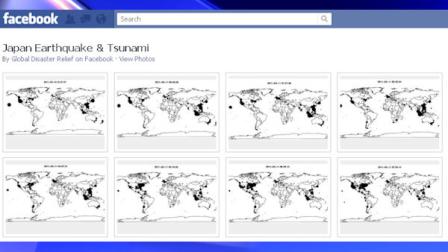 PHILADELPHIA - March 15, 2011 (WPVI) -- When the earthquake and tsunami hit Japan late last week, the social media networks exploded with updates from people all around the world.
By Tuesday, we were getting a look at just how big the story was on Twitter and Facebook.
On its blog, Twitter said that 572,000 new accounts were created in the first 24 hours after the disaster. On the first day along, some 177 million tweets were sent.
RELATED: Twitter's #numbers blog
Meanwhile,
Facebook created a map which plots status updates
about the earthquake and tsunami in the first 12 hours. You can follow the influx of updates as you scroll through their photo gallery and watch the concentration of black dots increase - especially in Japan and neighboring countries and here in the US.
RELATED: Facebook status update map
On March 11th, Facebook says, 3.8 million users from around the globe touched on the disaster, and a total of 4.5 million posts mentioned either the word "Japan," "earthquake" or "tsunami."
-----
RELATED: Search the International Committee of the Red Cross (ICRC) site to see if loved ones in the quake zone have checked in to say they are okay
RELATED: To help, visit www.redcross.org and donate to Japan Earthquake and Pacific Tsunami. You can also text REDCROSS to 90999 to make a $10 donation to the recovery effort
RELATED: Watch videos of the earthquake and tsunami as they happened in Japan
Emergency Information
For emergency information, assistance, and locating family in connection with earthquake in Japan: http://www.facebook.com/l/6b2e3a9CLMNbUwBsOw1jOL8d5aw/www.jhelp.com
Phone numbers in US and Japan:
202 559 4683
800 373 1110
0570 000 911
011 81 90 7170 4769
011 81 90 3080 6711
(Copyright ©2014 WPVI-TV/DT. All Rights Reserved.)
japan
,
earthquake
,
tsunami
,
japan earthquake
,
national/world
,
alicia vitarelli

Copyright ©2014 ABC Inc., WPVI-TV/DT Philadelphia, PA. All Rights Reserved.