National/World

Gingrich: Romney's business record secondary in SC
Thursday, January 12, 2012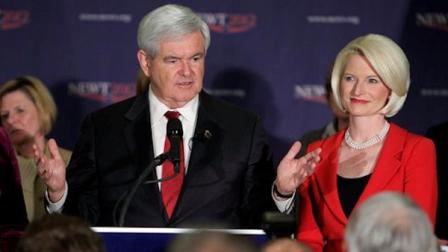 WASHINGTON - January 12, 2012 (WPVI) -- Republican presidential candidate Newt Gingrich says questions he's raising about Mitt Romney's record as a venture capitalist are "not the centerpiece" of his campaign in South Carolina.
The former House speaker said Romney's record as head of the equity firm Bain Capital is "an important question," however, because he predicated his campaign on the argument that he has the necessary business experience to restore the economy.
Gingrich says, "I'm campaigning as a pro-jobs, Reagan conservative in South Carolina."
The Georgia Republican was asked on Fox News Channel's "Fox & Friends" about a man's statement at a campaign event Wednesday that Gingrich should lay off questions about whether the former Massachusetts governor benefited from a culture of corporate greed at Bain Capital.
Gingrich told the questioner, "I agree with you."
(Copyright ©2014 WPVI-TV/DT. All Rights Reserved.)
election
,
republicans
,
mitt romney
,
south carolina
,
newt gingrich
,
national/world

Copyright ©2014 ABC Inc., WPVI-TV/DT Philadelphia, PA. All Rights Reserved.