National/World

Isaac moving, nears New Orleans on Katrina date
Wednesday, August 29, 2012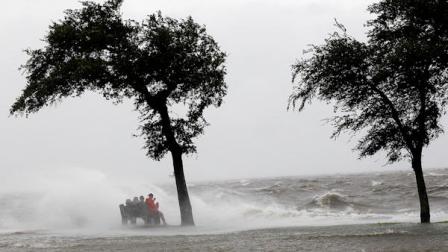 NEW ORLEANS - August 29, 2012 (WPVI) -- Hurricane Isaac is beginning to move inland in southeast Louisiana and remains a Category 1 storm with top sustained winds of 80 miles per hour.
RELATED: Interactive Hurricane Tracker on 6abc.com
The U.S. national Hurricane center in Miami said before dawn Wednesday that Isaac's center was expected to pass over Louisiana today and tomorrow and on to Arkansas early Friday. It will weaken over the next two days as it passes over land.
Isaac came ashore Tuesday night near the mouth of the Mississippi River, then went nearly stationary for several hours over the sparsely populated neck of land that stretches into the Gulf of Mexico. It was headed for New Orleans, 70 miles to the northwest, on the seventh anniversary of Katrina
(Copyright ©2014 WPVI-TV/DT. All Rights Reserved.)
hurricanes and tropical storms
,
florida
,
mississippi
,
louisiana
,
new orleans
,
national/world

Copyright ©2014 ABC Inc., WPVI-TV/DT Philadelphia, PA. All Rights Reserved.