National/World

18 arrested in Super Bowl sex, drug case in New York City
Friday, January 31, 2014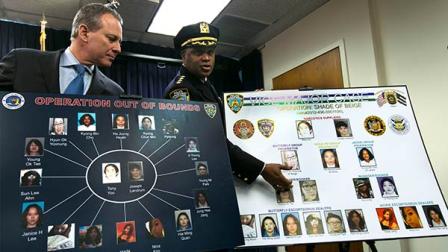 NEW YORK - January 30, 2014 (WPVI) -- New York law enforcement authorities cracked down Thursday on a prostitution ring that they said advertised on public access cable TV, took credit cards and used text messages to market "party packs" of cocaine and sex to clients.
New York Attorney General Eric Schneiderman said the gang had been under surveillance for 11 months, but authorities decided to act now in the hope of disrupting any parties that might have been in the works for the upcoming Super Bowl weekend.
Eleven people were under arrest Thursday, including a Long Island woman who authorities said went by the code-name "Beige" and was the primary ringleader. Seven more suspects were being sought.
At a midday news conference, Schneiderman held up a credit card reader that he said had been used by the gang, and said investigators had so far identified $3 million worth of charges processed in connection with sex and drug sales.
"Keep in mind that most johns pay cash," Schneiderman said. "So that's a staggering number for an enterprise like this."
Authorities said records showed that the ring set up phony clothing, wig, beauty supply and limousine businesses to disguise payments and launder money.
Many of the people involved with the organization were Asian immigrants, authorities said. In some intercepted conversations, the suspects used "Soojaebi," a Korean noodle and vegetable soup, as a code-word for cocaine.
Schneiderman said investigators didn't have a lot of information on the sex workers involved in the operation, because women cycled in and out, but he said that authorities considered the women to be exploited "victims," and said only the managers of the ring would face charges.
The ring marketed its women in racy TV commercials that aired on late-night, adult-oriented cable access television programs, authorities said.
One recent advertisement for the "Asian Wave" escort service featured a naked woman writhing on a bed, while an announcer promised that the service's escorts were "always a treat, and always fast to your door."
The ring also advertised on the Internet and communicated with repeat customers by text message, authorities said, including one sent last week boasting that the service had just "updated our girls."
"New sexy & beautiful girls R in town waiting for u," it said.
The attorney general's office said that after some clients were impaired by drugs, the ring would add extra charges to their credit cards, at least once exceeding $10,000 for one night.
The woman authorities identified as "Beige" was named in court papers as Hyun Ok Yoonung, or Hyun Ok Yoon, of Woodbury, N.Y. The name of her lawyer wasn't immediately available. A phone listed at her Woodbury address rang busy in several attempts.
"We have a plague of human trafficking in New York," Schneiderman said.
TONY YOO, 34
JOSEPH LANDRUM ("Landrum"), 32
HYUN OK YOON ("Beige"), 41
YOUNG OK TAE ("Tae"), 38
KYUNG CHUN MIN ("Nicky"), 33
SUN LEE AHN ("Sarah"), 56
YOUNG MI LEE ("Jasmine"), 40
JI YOUNG LEE ("Ivy"), 40
JANICE LEE ("Naomi"), 35
HEE JUNG CHERN ("Leah"), 42
HAIMING QUAN ("Megan"), 41
KYONG BIN CHO ("Jackie"), 44
JUNG HEE JANG ("Sara"), 43
IN SUK CHO ("HyoJung"), 49
JI YOUNG LEE ("Jenny"), 34
HADA JANG ("Mia"), 26
NINA KIM ("Tina"), 31
HAJOUNG HEATH ("Dada"), 40

(Copyright ©2014 WPVI-TV/DT. All Rights Reserved.)
super bowl
,
denver broncos
,
new york city
,
new york
,
new jersey news
,
drugs
,
sex
,
national/world
Copyright ©2014 ABC Inc., WPVI-TV/DT Philadelphia, PA. All Rights Reserved.