Parenting

Parenting Perspective: Pac-Man Fever Circa 2010
Tuesday, April 27, 2010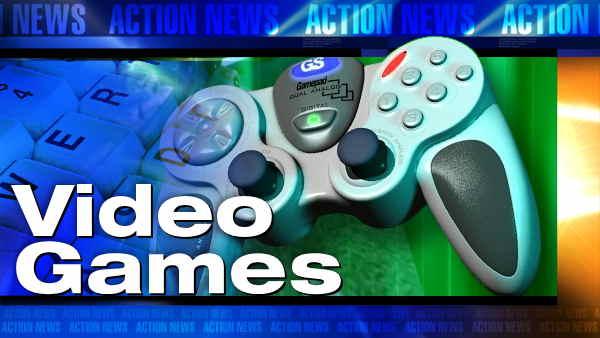 April 26, 2010 (WPVI) -- Remember the Atari 2600? It was released in 1977, one of the first video consoles widely made for home use. I remember when we got ours. Combat, Air/Sea Battle, Asteroids, I played them over and over again. (On a side note, I was greatly disappointed when I first played Atari's version of Pac-Man. Those disappearing ghosts were very annoying. Some say that coin-op conversion flop led to the Great Video Game Crash of 1983. But that's another story.)
Nowadays, we have PlayStation, Wii, Xbox, DSI, thousands of titles, and therefore thousands of options to waste our children's time! Or are they just wasting time?
Our 6abc Parenting Blog staff once again utilized the resources of Facebook to find out what parents out there think about children and their insatiable desire to "game" all hours of the day.
Here are some of your comments, and later, some advice.
Earl Bookheimer of Allentown, PA uses the reward system with her children: "If they had an extremely good day at school and have worked over the weekend to do additional chores...I will give them a credit of addition time for the week...But the agreement is that school work comes first."
Andie Reas of Philadelphia feels overwhelmed by the growth of gaming: "I think video games are evil. Back when I was in school we didn't have cell phones, Facebook, PlayStatiosn, etc. and life was so much better. We must watch when the kids are doing like a hawk."
Allison Beller-Grossman of Philadelphia poses an interesting question: "Is it any different from our generation being on the phone for hours or watching television?"
Ellen Gabel Fischer of Allentown, PA suggests using video games to spend more time with your children: "I like the Wii. My daughter and I play together and accomplish two goals with it: exercise while playing video games and having quality 'together' time. We love the dance games, the sports games and the Fit."
I have to admit I enjoy playing a little Wii Mario Kart with my children every now and then. And yes, they usually beat me.
Some parents may not realize what their children's devices are capable of doing. Alison Biggs Kolbe of Pittsgrove, New Jersey says this: "I teach high school computer applications and my kids will tell you that parents have NO IDEA that their children have internet access on many of their handheld video game systems."
Kolbe also has her own rule when it comes to playing video games: "We limit the times, and also have a 'sun out, kid out' rule: if the sun is out, then the kids are outside, no TV/games."
Joseph Ritchie of Eagleville, PA reminds parents about ratings: "Parents have to take the time to care enough to pay attention to the rating a game has before buying it. If they don't then it is their fault that the kids play something they are clearly not ready for."
Nick Macy warns of "too much" parenting on this issue: "I feel like I'm reading a lot of over-protective parenting here, and when your kids get out on their own, they do everything you told them not too in excess, and that can be dangerous in and of itself."
You may or may not be surprised to find out that Macy is a student at Temple University, set to graduate this year.
Christy Houston Kershaw of Sellersville, PA admits her youngster had a problem, which is now being addressed: "My child is a video game junkie at seven. He loves Super Mario. It's my fault. I thought video games were more stimulating than mindless cartoons. I've had him in sports and he shows no interest, only wastes more of my money. It has caused problems with school. Now he is limited to one hour on Fridays and four hours total on weekends."
On that note, here are a few simple tips from none other than ABC's the Super Nanny, Jo Frost
Step 1: Limit time spent on games
Don't let your child play them for hours on end, especially if it means he's socially isolated or not getting the physical exercise he or she needs during that time (for this reason it's best not to let your child have a computer or games console in his bedroom). Insist that homework or chores are completed before he starts playing them.
Step 2: Know the ratings
Just like with movies, video and computer games are rated. Take the ratings seriously and don't just go on the age a sensitive older child might not cope well with a game rated 10+. Make sure your child knows he or she isn't allowed to borrow or buy games rated for mature audiences. Here is the ratings scale:
" EC (Early Childhood) Content may be suitable for ages 3+ and should contain no material that parents would find inappropriate. " E (Everyone) Content may be suitable for ages 6+ and may contain minimal cartoon, fantasy or mild violence and/or infrequent use of mild language. " E10+ (Everyone 10 and older) Content may be suitable for ages 10+ and may contain more cartoon, fantasy or mild violence, mild language, and/or minimal suggestive themes. " T (Teen) Content may be suitable for ages 13+ and may contain violence, suggestive themes, crude humor, minimal blood, simulated gambling, and/or infrequent use of strong language. " M (Mature) Content may be suitable for ages 17+ and may contain intense violence, blood and gore, sexual content, and/or strong language. " AO (Adults Only) Content should only be played by ages 18+ and may include prolonged scenes of intense violence and/or graphic sexual content and nudity. "
"
Step 3: Join in
Play the games with your child watching his reactions is the best way to gauge just what sort of impact they're having on him and talk to him about what's going on in the games so you can judge whether he might be taking them too seriously.
Step 4: Get other parents on the same page as you
If your child is playing unsuitable games at a friend's house it's vital that you speak to the other child's parents and ask them to intervene they may not know it's going on. Similarly, if your child is buying games from a local retailer ask them what safeguards they have in place to prevent young children from buying T or M-rated games. Do you belong to a local video/DVD library that rents out games? Ask if it's possible for a block to be placed on your membership card so your child can't borrow games over a certain rating.
On that note, we end on some parenting advice from Amanda Beyer Karns of Philadelphia: "If you raise your kids right, I don't think playing video games is a big deal. My son is now 24. He's been playing video games since he was three. He's a wonderful, responsible, kind, hard working young man... I believe that is because I stayed home and raised my children, and his father and I are still happily married (27 years)."
You can find more information by visiting the Supernanny website.
Read more Parenting Perspective blogs by visiting the Parenting Channel on 6abc.com.
(Copyright ©2014 WPVI-TV/DT. All Rights Reserved.)
matt o'donnell parenting reports
,
computers
,
video games
,
microsoft
,
nintendo
,
sony
,
parenting
,
matt o'donnell

Copyright ©2014 ABC Inc., WPVI-TV/DT Philadelphia, PA. All Rights Reserved.