Inside Politics

Castle won't wage write-in Del. Senate campaign
Wednesday, September 29, 2010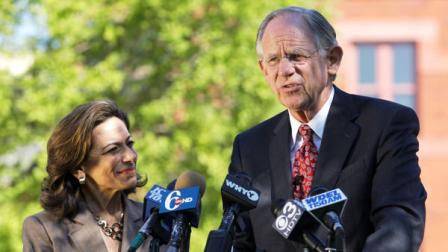 DOVER, Del. (AP) - September 29, 201 -- Longtime Republican congressman Mike Castle has ruled out a write-in campaign in the U.S. Senate race in Delaware.
Castle is also a former two-term governor and the longest serving congressman in state history. He lost the GOP primary earlier this month in a stunning upset to tea party favorite Christine O'Donnell.
He issued a statement Wednesday night saying he had ruled out a write-in campaign, which many supporters had asked him to consider. The decision brings an end to a political career stretching over four decades.
Castle had until Thursday afternoon to declare his candidacy in writing.
His decision leaves O'Donnell to face Democrat Chris Coons in November for the Senate seat long held by Joe Biden before he became vice president.
(Copyright ©2013 by The Associated Press. All Rights Reserved.)
delaware
,
rep. mike castle
,
chris coons
,
christine o'donnell
,
inside politics

More Inside Poltics
Copyright ©2013 ABC Inc., WPVI-TV/DT Philadelphia, PA. All Rights Reserved.