Special Reports

Eagles wife is ready for a fight
Sunday, March 06, 2011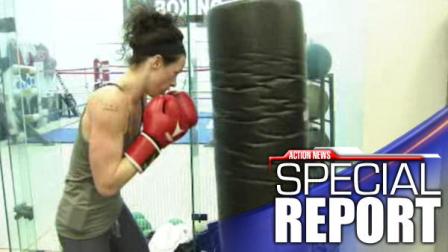 March 1, 2011 (WPVI) -- When you think of a NFL football player you think tough. So this may come as a surprise. One of the Eagles may not even be the toughest person in his own home.
Week in and week out, Brent Celek takes a beating on the field playing for the Eagles. But the tight end has never taken a hit from a boxing glove, but his wife, Susie, has.
Susie is not your typical NFL wife. In fact, she is training to be a boxer.
"I was kind of nervous at first," said Brent Celek.
"He was like are you serious, you can get hurt so easily," Susie replied.
But make no mistake about it. Susie is not just a pretty girl on an athletes arm. She is a fighter. She is also ultra-competitive like her husband. Even when the two are at home playing shuffle board.
"This is ridiculous," said Brent as Susie scored a point in the game.
Susie was an All-American swimmer and rower in college at the the University of Cincinnati where the pair met. But she said that boxing is not only the hardest sport she's ever done, its also given her purpose.
"I wasn't always the confident kid and I got picked on and I got made fun of a lot, so I had a really low self-esteem and boxing is that thing that has given me confidence," Susie added.
So much so, come this Saturday, after three years of training, Susie will step into the ring for her very first fight. She will take on Wendy Burke at Fight Night taking place at The Sporting Club at the Bellevue in Center City.
"I couldn't imagine anything more terrifying than walking into a ring where you know you're going to get into a fight," she added.
But Susie said what is comforting is that her husband will be in her corner - literally. Brent will be ringside to watch her box in the non-sanctioned match.
"I know I'm going to be nervous for her just because when you get in that ring it is not like being on the football field," added Brent.
While Susie did not make any bold knockout predictions for Saturday's fight, she will guarantee this: she says she can take down her 6 '4, 255 pound husband!
"In two or three rounds," said Susie.
When asked if that were true, Brent replied, "Come on Jeff, she has gotten good, but not that good."
We will see this Saturday.
Here is more information on where to buy tickets to the fight: The Sporting Club at the Bellevue
(Copyright ©2014 WPVI-TV/DT. All Rights Reserved.)
special report
,
philadelphia eagles
,
lincoln financial field
,
boxing
,
nfl
,
special reports
Also See

More:
HealthCheck
More:
Consumer News

Copyright ©2014 ABC Inc., WPVI-TV/DT Philadelphia, PA. All Rights Reserved.