Local/State

Suspect's shoes tie him to 2 Fayetteville robberies
Friday, September 13, 2013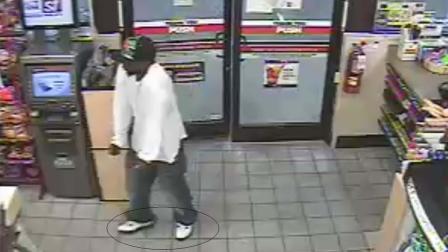 FAYETTEVILLE, N.C. (WTVD) -- Fayetteville police are searching for a man wanted in two convenience store robberies this week. They've connected the two hold-ups by surveillance photos showing the man wearing the same shoes.
Police said the suspect robbed the Short Stop convenience store on Murchison Road Monday just after 1 p.m.  The suspect waited until all customers left the store then went to the counter and pulled out a gun. He was able to make off with an undisclosed amount of money.
The surveillance images from a robbery on Tuesday at the Kangaroo on Murphy Road show a man wearing the exact same white tennis shoes as Monday's photos.
The suspect is described as a black male about 5'5"- 5'7" tall between the ages of 30-35 and about 130-140 lbs.
Anyone with information on the robberies or the identity of the suspect is asked to contact Crimestoppers at (910) 483-TIPS (8477).
See It On TV | Report A Typo |  Send Tip |  Get Alerts | Send us photos
Follow @abc11 on Twitter  |  Become a fan on Facebook
(Copyright ©2014 WTVD-TV/DT. All Rights Reserved.)
cumberland county news
,
fayetteville news
,
north carolina news
,
robbery
,
local/state

Copyright ©2014 ABC Inc., WTVD-TV/DT Raleigh-Durham, NC. All Rights Reserved.