Local/State

Weekend weather will see highs only in the 70s
Thursday, September 12, 2013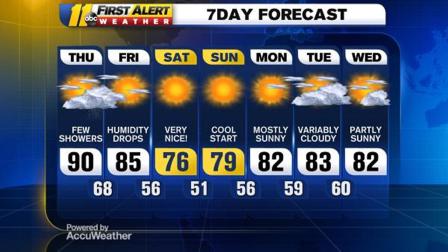 RALEIGH, N.C. (WTVD) -- Thursday will be the last day of warm and humid weather for a while.
A cold front is approaching from the west that could mean some showers or thunderstorms this afternoon and evening. After the front passes through, cooler and drier air will filter in. For Friday, highs will still reach the mid 80s, but humidity levels will drop dramatically as the day moves along.
The really cool air will push in Friday night, setting the stage for a fantastic weekend. Highs on Saturday and Sunday will only be in the 70s, and lows will drop into the low 50s, with some upper 40s in outlying areas north of the Triangle.
» Click here to get the ABC11 Weather App for your smartphone «
See It On TV | Report A Typo |  Send Tip |  Get Alerts | Send us photos
Follow @abc11 on Twitter  |  Become a fan on Facebook
(Copyright ©2013 WTVD-TV/DT. All Rights Reserved.)
north carolina news
,
raleigh news
,
durham county news
,
fayetteville news
,
local/state

Copyright ©2013 ABC Inc., WTVD-TV/DT Raleigh-Durham, NC. All Rights Reserved.