Local/State

Same shoe bandit strikes again in Cumberland County
Saturday, September 14, 2013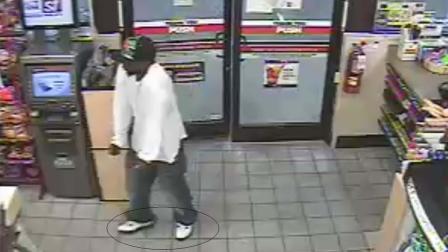 FAYETTEVILLE, N.C. (WTVD) -- Fayetteville police say the man who is wanted in two robberies has targeted another convenience store, and he wore the same shoes again.
Police linked the suspect to two armed robberies last week by surveillance photos showing him wearing the same black and white sneakers to each store.
Now, officials said the suspect was caught on camera again in the same tennis shoes, but this time in Hope Mills. On Tuesday the man allegedly robbed a convenience store on Legion Road at 9 a.m.
Police suspect the same man is responsible for a robbery at the Short Stop convenience store in Fayetteville last Monday and another hold up at the Kangaroo on Murphy Road last Tuesday.
The suspect is described as a black male about 5'5"- 5'7" tall between the ages of 30-35 and about 130-140 lbs.
Anyone with information on robberies or the identity of the suspect is asked to contact Crimestoppers at (910) 483-TIPS (8477). 
See It On TV | Report A Typo |  Send Tip |  Get Alerts | Send us photos
Follow @abc11 on Twitter  |  Become a fan on Facebook
(Copyright ©2014 WTVD-TV/DT. All Rights Reserved.)
cumberland county news
,
fayetteville news
,
north carolina news
,
robbery
,
local/state

Copyright ©2014 ABC Inc., WTVD-TV/DT Raleigh-Durham, NC. All Rights Reserved.