Local/State

Dump truck crash shuts down Aviation Pkwy in Morrisville
Thursday, September 26, 2013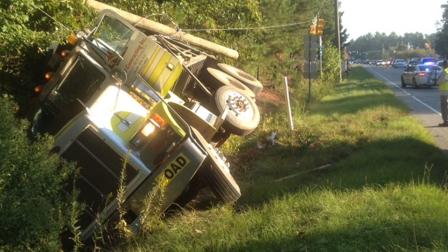 MORRISVILLE, N.C. (WTVD) -- The intersection of Aviation Parkway and Evans Road in Morrisville was shut down Thursday morning by an accident involving a dump truck and a cyclist.
The huge vehicle went down the shoulder of the road and smashed through the supports for the intersection's traffic light system.
Police said the cyclist turned left from Evans onto Aviation on a red light into path of the truck. The bicyclist suffered minor injuries and was taken to the hospital.
The truck was loaded with rock, and officials said it would take time to pull it out and repair the traffic lights.
Morrisville police were directing traffic.
See It On TV | Report A Typo |  Send Tip |  Get Alerts | Send us photos
Follow @abc11 on Twitter  |  Become a fan on Facebook
(Copyright ©2014 WTVD-TV/DT. All Rights Reserved.)
north carolina news
,
wake county news
,
raleigh news
,
accident
,
local/state

Copyright ©2014 ABC Inc., WTVD-TV/DT Raleigh-Durham, NC. All Rights Reserved.