Local/State

Two arrested in deaths of mother, son
Thursday, October 10, 2013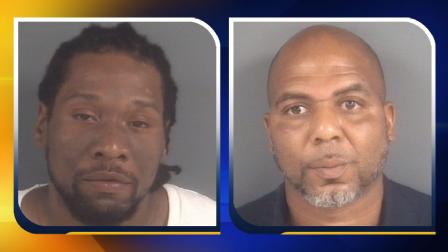 CUMBERLAND COUNTY, N.C. (WTVD) -- Cumberland County authorities have arrested two men in connection with the murder of a local woman and her son.
Deputies arrested 32-year old Leondrea Montrell Robinson and 44-year old Corey Lavone Spell, both of Fayetteville on Thursday.
The two are accused of killing 57-year-old Yolanda George and her son, 35-year-old Jamal Skinner at their home. A neighbor discovered the bodies on Oct. 2. George's body was found lying outside their home on Matt Hair Road, and Skinner's body was found inside.
An autopsy determined that the two died from gunshot wounds.
Authorities say the killings were not a random act of violence.
Both Robinson and Spell are charged with two counts of first-degree murder, conspiracy, as well as breaking and entering. They are each being held in the Cumberland County Detention Center without bond. They are both scheduled to make their first court appearances Friday.
See It On TV | Report A Typo |  Send Tip |  Get Alerts | Send us photos
Follow @abc11 on Twitter  |  Become a fan on Facebook
(Copyright ©2014 WTVD-TV/DT. All Rights Reserved.)
north carolina news
,
cumberland county news
,
fayetteville news
,
homicide
,
shooting
,
local/state

Copyright ©2014 ABC Inc., WTVD-TV/DT Raleigh-Durham, NC. All Rights Reserved.