Local/State

Man beaten with exercise weight in critical condition
Monday, October 14, 2013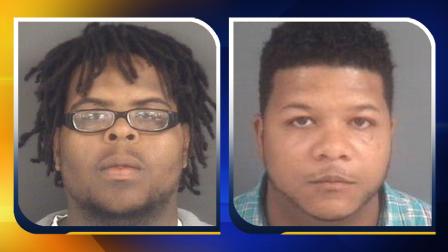 FAYETTEVILLE, N.C. (WTVD) -- Fayetteville police have put two men behind bars after they allegedly critically injured another man with an exercise weight.
Police said 26 year-old Jonathon Jackson and 26-year-old Alphonso Carlton came to a home in the 7500 block of Southgate Road Saturday just after 2 p.m. Carlton got into an argument with 28-year-old Kendall Evans at the home and then allegedly beat him with the weight until he was unconscious.
While Evans lay unconscious and bleeding on the ground outside the home, they fled the scene.
Another resident at the home found Evans laying outside and called 911. Kendall Evans was transported to Cape Fear Valley Medical Center and was then airlifted to UNC Hospital in Chapel Hill, where he is listed in critical condition.
Detectives arrested Carlton Saturday and charged him with assault with a deadly weapon with intent to kill, inflicting serious injury. Jackson was arrested Sunday and charged with assault inflicting serious bodily injury. They are both being held at the Cumberland County Detention Center.
See It On TV | Report A Typo |  Send Tip |  Get Alerts | Send us photos
Follow @abc11 on Twitter  |  Become a fan on Facebook
(Copyright ©2014 WTVD-TV/DT. All Rights Reserved.)
north carolina news
,
cumberland county news
,
fayetteville news
,
local/state

Copyright ©2014 ABC Inc., WTVD-TV/DT Raleigh-Durham, NC. All Rights Reserved.