Local/State

One captured in Fayetteville store robbery and rape
Friday, November 08, 2013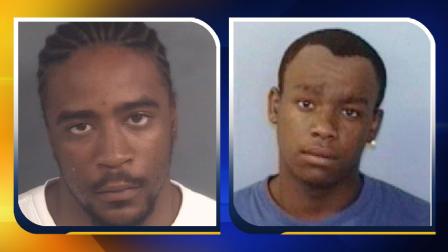 FAYETTEVILLE (WTVD) -- The Fayetteville Police Department says a US Marshal's task force has captured one of two men wanted in a robbery and rape at an auto parts store earlier this week.
Cortese Davis, of Spring Lake, was found at a home on Blue Street in Fayetteville. He is being held on a $1.3 million dollar secured bond.
Police continue to search for Smith Paul Merinord, of Dunn.
The pair is accused of robbing the Advance Auto store on Owen Drive at Cumberland Road around 8:20 p.m. on Saturday.
Fayetteville police say the robbers came into the store and asked about a part for a car. As a female employee searched for the part, one the men pulled out a gun and demanded money.
The store's employees were taken to the back of the store where one of the robbers held a male employee at gunpoint while the second robber sexually assaulted the female employee.
The robbers then fled.
About an hour later, an Advance Auto Parts in Lumberton was robbed by two men who match the description of the Fayetteville robbers.
Anyone with information on the whereabouts of Merinord is asked to call Detective J. Benazzi at (910) 257-3668 or Sergeant G. Womble at (910) 916-2764.  Crimestoppers information can also be submitted by calling (910) 483-TIPS (8477) or by visiting http://www.fay-nccrimestoppers.org/send_a_tip.aspx and completing the anonymous online tip sheet.
See It On TV | Report A Typo |  Send Tip |  Get Alerts | Send us photos
Follow @abc11 on Twitter  |  Become a fan on Facebook
(Copyright ©2014 WTVD-TV/DT. All Rights Reserved.)
north carolina news
,
cumberland county news
,
fayetteville news
,
robbery
,
local/state

Copyright ©2014 ABC Inc., WTVD-TV/DT Raleigh-Durham, NC. All Rights Reserved.